HOBBIT Project FP7 About(Skip Content)
EU Ageing challenge
It's no secret to that our society is getting older. According to a recent EC report (The 2012 Ageing Report), the share of older people is project to rise from 17% to 30% in 2060. As a consequence, the EU would move from having four people of working-age to each person aged over 65 years to about two people of working-age.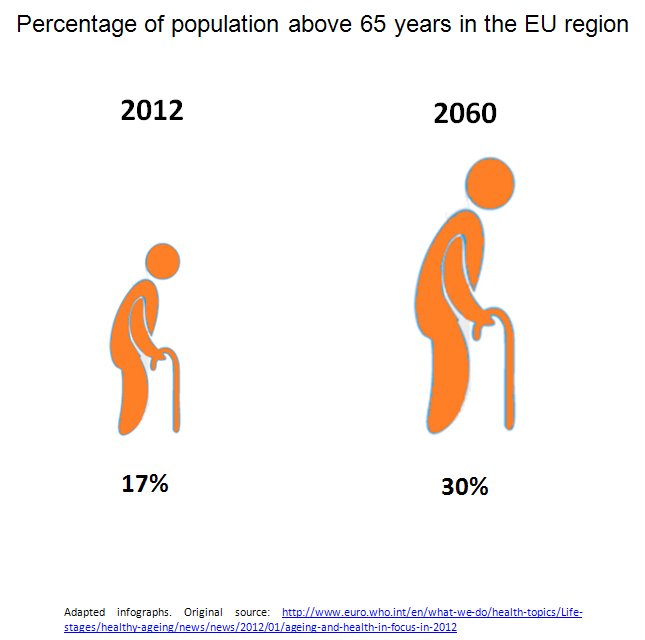 More older people will stress the health care system and economy. More will require assistance in everyday activities, and an increasingly number will spend time in nursing homes. It's unclear who will pay for this and how. If it is families/relatives, they spend money and time trying to help their parents/old relatives stay independent, and stay out of a nursing home. That number is only going to go up over the next few decades.
Innovative robots for ageing well at home
The solution, the robotics industry hopes, is technology. Experts and users agree that Ambient Assisted Living (AAL) and Social and Service Robots (SSR) have the potential to become key components in coping with Europe's demographic changes in the coming years. From all past experiences with service robots, it is evident that acceptance, usability and affordability will be the prime factors for any successful introduction of such technology into the homes of older people.
HOBBIT - The mutual care robot
While world players in home care robotics tend to follow a pragmatic approach such as single function systems (USA) or humanoid robots (Japan, Korea), the HOBBIT robot introduces a new user-centred concept called " Mutual Care ": by providing a possibility for the human to " take care " of the robot like a partner, real feelings and affections toward it will be created. This way, it is easier to accept assistance from a robot when - in certain situations - in return the human can also support the machine.
A proactive end-user involvement throughout the life of the project through the close cooperation with institutional caregivers will enable the consortium to continuously improve acceptance and usability.
Information about the Hobbit project

| | |
| --- | --- |
| Project Name | HOBBIT - The Mutal Care Robot |
| Project Acronym | HOBBIT |
| Strategic Objective | FP7-ICT-2011-7 ICT and Ageing |
| EU Funding | EUR 2.830.000 |
| Project Start Date | 1st November 2011 |
| Project Duration | 36 month |
| Project Coordinaton | Vienna University of Technology |